When and How To Use Google's Disavow Tool For Your Website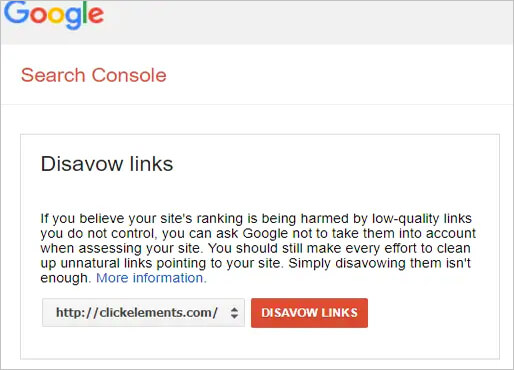 Google's disavow tool has become an extremely important tool over the past decade and here's why:
Links have always been an important part of SEO and digital marketing as quality referral traffic from a good link is important. However,  the value of links skyrocketed in the early part of the last decade due to algorithm changes in Google that made links a more important ranking factor.  This caused a seismic change in digital marketing that led to many agencies and in-house marketers to abuse unnatural link building tactics to gain as many links as possible. It was like the Wild Wild West in digital marketing and it was easy to achieve keyword rankings by paying for links and creating link farms between multiple websites.
However, this all changed in 2014 with Google's Penguin algorithm update. Google would now significantly penalize websites by tanking their artificially inflated keyword rankings due to toxic, spammy, non-relevant, or paid links. Many websites that had multiple page-1 ranking keywords were now nowhere to be seen in the search results. To recover from this penalty, webmasters, SEOs, and digital marketers would now have to confess their sins by analyzing all their backlinks and submitting a list of spammy links through Google's disavow tool. 
Even though it's been known that you can face penalization from Google for toxic links, many marketers still utilize unnatural link building tactics and just hope they don't get caught. While a website may get away with it for a while, it's only a matter of time before Google catches on and completely erases all the keyword rankings.
If you've noticed a reduction in organic traffic and a significant drop in keyword rankings, it may be worthwhile to analyze your backlinks. This is especially true if you've worked with any marketing agencies or in-house SEOs in the past.
Let's Talk Backlink Analyses
To determine if you need to submit a disavow file, you need to discover all the links that are pointing to your website.  The volume of backlinks is easy enough to detect. You can use a third-party tool, like Majestic or SEMRush, to provide a relatively accurate total number of backlinks. These tools will also analyze all the backlinks and try to make a determination of each link is good or toxic. While these tools do a decent job at pinpointing negative links, you should still manually take a look at every domain as they are not perfect.
A thorough backlink analysis can take anywhere from a few hours for smaller link profiles to a multiple hour project for sites that have thousands of links.
Creating and Submitting the Disavow File
Ensuring that you have all of the necessary details when disavowing is critical to the overall success of the process.
Two points to remember are:
Avoid individual patterns and utilize the domain: operator on site level.
Consider the correct file format of the .txt document (UTF-8 or 7-bit ASCII). The filename used should not matter as long as it ends with .txt.
Website owners can use the Disavow File Testing Tool to confirm the validity of their disavow file. There should be a final check to make sure you are not disavowing your own domains.
One final tip is to make sure you submit the disavow file without delay in order to increase the performance of it. New backlinks constantly come into play and are changing all the time. This is why a disavow file is a temporary fix. Its value decreases over time due to the constant evolution of backlink profiles. At a minimum, a thorough backlink analysis should be performed once a year to see if its necessary to add any domains to your file.Make sure that you combine previously disavowed and newly detected backlink patterns in one new disavow file before uploading. If you just keep submitting new patterns, it will delete the previously submitted ones, which you do not want.
Due to the technical nature of a disavow and the potential harmful repercussions, we highly advise that you contact an experienced digital marketing agency like Click Elements to handle it for you. We've been analyzing backlinks and compiling disavow files since the Penguin update landed in 2014. 
For any additional questions on Google's Disavow Tool, contact our Fort Lauderdale SEO experts today.