It's 2021: Bid Adieu to New Customers and Retention Without Effective Digital Marketing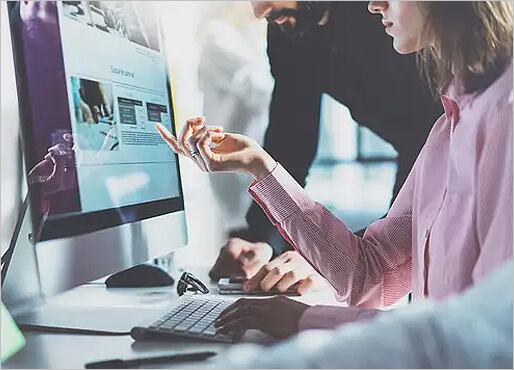 Unprecedented times surround the United States as the battle against Covid-19 continues. However, as the global pandemic continues on, so does another long-standing aspect – digital marketing.
Implementing a Strong Digital Marketing Strategy for Your Business
In order to stand out against the competition and reach your target audience, you must increase your brand's visibility online. And what better way to do so with a distinguished digital marketing company?
A digital marketing company that is well-versed in digital marketing can help you completely revamp and diversify your current digital marketing approach. Here are some of the most beneficial strategies a digital marketing agency can implement:
Strong SEO Practices: Search Engine Optimization (SEO) is one of the best inbound marketing strategies for businesses in all industries and should be a top priority for your company. If implemented and managed correctly, you will have the opportunity to significantly boost your rankings on high-authority search engines, like Google and Bing. The higher your website ranks, the easier it will be for those in need of your products or services to find your website. To start this process, SEO specialists will work on the following:
Keyword research and utilization: Any content you create on your website or for offsite purposes needs to be optimized for keywords related to your services. Search engines will analyze the keywords in someone's search and match them with content/websites that use those same phrases, which is why it is essential to have a solid range of relevant keywords and search terms on hand.
Backlinking: Backlinks are links that exist on other web pages that direct back to your website. The more backlinks you have from reputable websites, the more credible you look to search engines. SEO specialists can assist you with backlinking by networking with other organizations (collaborations) and creating useful and relevant content.
Content creation: Relevant, keyword-rich content plays an essential role in your overall SEO strategy. While it is important for your website content to be thoroughly optimized, your website should also have a blog that is actively producing valuable content. People are always searching online for various services and products, as well as information – the goal is to have them find your website first. As you draw more traffic to your website, the better your search ranking will also improve.
The hard work does not stop there, though. These efforts must be maintained consistently, which is why it is crucial to have a digital marketing team help with this long-term process. It is important to note that SEO does take time—anywhere from three to six months—to start producing results. However, there are a few paid approaches you can supplement with for quicker results.
Google Ads Marketing to Generate Leads: Alongside a strong SEO strategy, you can work with your marketing agency to develop PPC campaigns that will attract new leads at a faster rate. This unique strategy for internet marketing allows you to bid for ad placement on Bing or Google's sponsored links when someone searches a keyword that relates to your business. Every time your ad is clicked on by a potential new lead, you will be required to pay a pre-determined fee.
For the most effective PPC campaign, you will need a quality landing page – a page that online traffic is directed to when they click on your ad. Your digital marketing team will be able to create new landing pages with each PPC campaign you run. While PPC campaigns can run at a higher cost based on competition and search volume for your company's relevant keywords and search terms, they are one of the fastest and most targeted marketing strategies that your facility can benefit from.
Utilizing Social Media Platforms: More and more social media platforms, such as Facebook and Instagram, have developed into useful tools that allow for meaningful connections and communities. It is an extraordinary realm where people can share their stories, share ideas, discover new brands, and so much more.
Social media is an excellent tool to advertise your company on, but it also acts as an important means of communication and resource to those who need it. Social pages can also drive more traffic back to your website if you decide to run paid ads or post daily blogs from your website. Social media offers so much versatility in your marketing strategy, as you truly get the best of both worlds – the ability to advertise your company to the right demographic and the opportunity to create a resource that offers information and visuals for your products and services.
It is time we bid adieu to the long-forgotten days of bringing in new leads without the help of a digital marketing agency. An effective digital marketing strategy is the key to increasing calls to your business, boosting your website traffic, and, most importantly, connecting with new customers who are ready to make a purchase or book a service.